Dr. Yvette E. Thompson
Dr Yvette E. Thompson was born and raised in the Bay Area of California. She completed dental school at the Dugoni School of Dentistry in San Francisco in 2008. She quickly realized her passion was working with children and after practicing general dentistry for three years she began further training to specialize in children. She completed her residency training at the Oregon Health and Science University in Portland Oregon in 2013. She achieved board certification from the American Board of Pediatric Dentistry in 2015. Dr Yvette is an adjunct assistant professor in Pediatric Dentistry at UNC.
It is Dr. Yvette's mission to treat children with gentleness, compassion and respect while making dentistry fun so that they can grow to be healthy adults without fear of dentistry. She is bilingual in English and Spanish.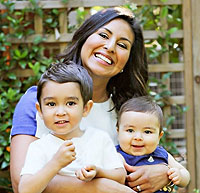 When she is not practicing dentistry, Dr. Yvette spends her time with her two young sons, Joaquin and Javier, and husband, Eric.
Dr. Thompson is a member of the following organizations:
American Academy of Pediatric Dentistry
NC Academy of Pediatric Dentistry
NC Dental Society
Academic Information:
Residency: Oregon Health & Science University
Degree: Certificate in Pediatric Dentistry
2011-2013
Dental: University of the Pacific School of Dentistry
San Francisco, CA
Degree: Doctor of Dental Surgery
2005-2008
Undergraduate:
University of California at San Francisco
San Francisco, CA
UCSF Post-Baccalaureate Program
2004-2005
University of California at Davis
Davis, CA
Degree: BS
Major: Genetics
2002-2004
Diablo Valley College
Pleasant Hill, CA
1999-2002